Magnet - M020 - The House at the Two Suns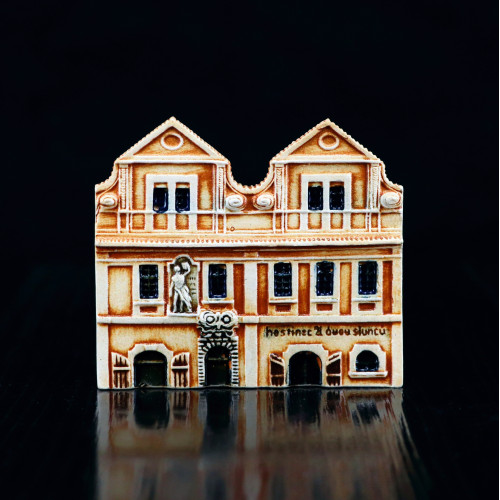 Dimensions:
9.00cm x 1.00cm x 8.00cm
Model of this product
This Prague house can be found at this address:
Nerudova 233/47, Lesser Town, 118 00 Prague 1, Czech Republic
The building dates from the 17th c. It has two gables and early Baroque facade. One of its first owners was Bohuslav Hrobčický from Hrobčice, who is also the main character in a play by Ladislav Stroupežnický. The goldsmith Lichtenschopf bought the house in 1637 and placed the house-marker with two suns on its facade. From 1845 the writer, poet and journalist Jan Neruda (born in the Lesser Town) lived here. His stories depict the life and atmosphere of the Lesser Town during the 19th c. On the 29th of September 1895 a memorial plaque was unveiled here. It reads: "Here lived Jan Neruda who also started his literary career here."
Every miniature magnetic house made of porcelain is original, unique and unrepeatable. Each individual piece might be slightly different in size or shade of colour as we hand paint every single one.